Ex-world champ Glenn McCrory teams up with O'Tooles to train prospect
Glenn McCrory has given O'Tooles a ringing endorsement by picking the state-of-the-art Tyneside gym as his base to train Louis Isaacs.
If you have not heard of the 21-year-old yet, you have now and you'll hear a lot more of him.
The former world cruiserweight champion is coaching the unbeaten London prospect, who has swapped London for Newcastle to work with Mr North-East Boxing.
McCrory has set up camp in the Byker gym which was opened earlier this year by boxing figure and businessman, Neil Conlon.
Neil transformed a former kiddies play zone into a two-floor palace, with O'Tooles Boxing on the top floor above O'Tooles Health and Fitness.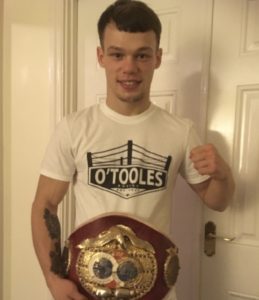 "To have a boxing legend using O'Tooles as his base is incredible," Neil told punch-lines.
"I've known Glenn a long time and he called one day to say he needed a base to train Louis.
"It's a great endorsement of O'Tooles and it shows word is spreading about this place.
"Louis looks a great prospect, he'll learn so much under Glenn and he'll benefit from the facility we have here in Byker.
"When I opened I wanted us to become a top pro gym.
"But O'Tooles is more than that. All boxers, 16 or over, are welcome here, male or female, and whether they are a good boxer or a beginner."
For more information about O'Tooles and how to join, click here
McCrory created history in 1989 when he became the first North-East boxer to become a world champion, outpointing Patrick Lumumba for the IBF title in Stanley.
The Annfield Plain man (pictured at the top with Josh Kelly) went on to forge a career as an outstanding TV pundit with Sky Sports. He was ringside with talkSPORT on Saturday night at Wembley for Joshua-Povetkin.
Recently he was working for Live Sports at the Rainton Meadows Arena in July when Tommy Ward won the IBF European super-bantamweight title and the 54-year-old remains one of the sharpest boxing brains in the business.
He is building Isaacs towards his third pro appearance, against Iranian-born Brummie Yaddollah Ghasemi at Tottenham Green Pools & Fitness on October 13.
The lightweight, from Islington, began his career by beating Anto Nakic at the York Hall, following that up with a second points victory at the same Bethnal Green venue against Petar Alexandrov.
O'Tooles is situated just a short distance from Newcastle city centre at 308 Shields Road.
Words: Roy Kelly   Picture: Jennifer Charlton
Ex-world champ Glenn McCrory teams up with O'Tooles to train prospect